1. Old Town Hall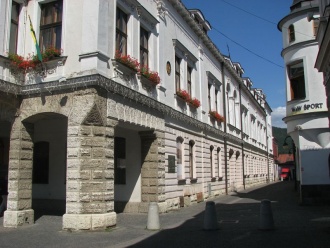 It was first mentioned in 1508. The town hall was a turret bell, which rang whenever a prisoner led to the gallows on Gallows Hill. In addition to the seat of the city administration was built a room for the night guard, prison and archive. Building (with original Gothic cellars) has undergone several construction works - from the original Gothic through Renaissance to the present.
3. Church of St. Paul the Apostle and the Monastery
Church was built by the Jesuits, who came to the city around1654 as missionaries. This Roman Catholic Church with two towers was built in baroque style. It was completed in 1754. The church was decorated by Ignatius John Cimbala (1722-1795). Monastery and underground spaces has three floors.
5. Považská gallery
This is Art Nouveau building with red roof. In this building is housed the Tourist Information Office of Žilina. In its galleries are installed a permanent exhibition of works by leading personalities of Slovak art of the 20th century Hložník Vincent.
2. Cathedral of the Holy Trinity
It is one of the most important and oldest buildings in the city. The church was originally dedicated to the Virgin Mary. Church was repaired in 1586 dedicated to the Holy Trinity. Church, originally Gothic, is rebuilding after the Renaissance style. The main altar of the Holy Trinity was built in 1697. Picture was painted by Joseph Klemens Božetech in 1870. Underneath the church are six crypts and two walled wells. Seventh crypt is located beneath Calvary on the east side of the church.
4. Rosenfeld's Palace
It was built in 1907 as a scaled replica of the Viennese castle Belvedere by the architect Rauter. It was named after the owner – famous trader Ignatius Rosenfeld . This is among the most beautiful Art Nouveau monuments in Slovakia. Rosenfeld's Palace in 2009 was declared a national cultural monument. Zilina city plans to reconstruct the building and set up her representative spaces.
Zilina is the town with the most registered historic buildings in Slovakia. It is a very popular tourist location.
Related content: Map of Zilina