1. Regional Park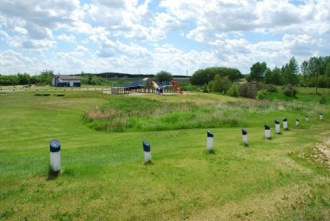 The park is located at Wynyard's west entrance, 2.5 km south off the Yellowhead highway. This is quiet and well treed Park. It is ideal for nature lovers. The reservoir, behind the old dam supports a healthy population of rainbow trout. Visitors can rent canoes, kayaks, and electrical powered boats to enjoy on the reservoir. The Park also has 22 camp sites, modern washrooms and showers for campers,
3. Wynyard Court House
The Wynyard Court House is a Municipal Heritage Property situated on the corner of 4th Street and Avenue C E in Wynyard. The property features a two-storey, brick building. The building was constructed in 1928. The heritage value of the Wynyard Court House lies in its architecture. The building is one of a series of court houses designed by the office of the provincial architect Maurice Sharon. Situated on large, landscaped grounds on a prominent corner in Wynyard, this Court House building is a real local landmark.
5. Wynyard Federated Church
Wynyard Federated Church is a Municipal Heritage Property. The property features a one-storey, brick-clad church that was constructed at the beginning of the twentieth century. The heritage value of this church lies in its association with the Icelandic settlement of the Wynyard area. Icelandic settlers first came to the area in 1904. In 1906, the Icelandic people joined together to establish a church for the community. The community values the property's unaltered architecture as a reminder of the past.
2. Birding hot spot
This is one of the best places in the world for bird watching. There are over 300 species and more then 300,000 birds in this area. That is why it's no surprise that the Quill Lakes region is the most nationally and internationally recognized Canadian bird Areas. Over one million ducks, geese, cranes, and songbirds stop here while traveling to North America's Central Flyway. From these hot spots, visitors will also be able to see some endangered species such as the piping plover and the peregrine falcon.
4. Canadian Pacific Railway Station
The Canadian Pacific Railway Station at Wynyard is a railway station built in 1909. It is located at the centre of the small town of Wynyard. Station is still in use as an administrative centre. Key elements of the original railway station setting are intact, including the tracks, the round house, and the tall trees that are the remnants of the original station garden.
The town is located with about equal distances from Regina, Saskatoon, and Yorkton, The town of Wynyard offers many options for visitors in the areas of Tourism, Recreation, Culture and Retail.
Related content: Map of Wynyard