1. Sydney Opera House
Sydney Opera House is magnificent building even from a distance. However, if you want to truly get a feel of what magic goes on inside, you should take a trip to the opera. The Sydney Opera House is one of the most recognized Australian icons in the world due to its spectacularly unique architecture. The Opera House has been world heritage since 2007. It gets over seven million tourists and visitors every year.
3. May Gibb's House & Garden
May Gibbs was the first to give Australian children a fantasy world of their own. Located in North Shore in Sydney Harbour, Nutcote is a beautiful little Mediterranean-style cottage and English garden created by May Gibbs. She lived here for fourty four years, working in her studio to create the comic strips.
5. Emerald Star Cruises
Emerald Star is a historic vessel, an icon of Sydney Harbor. It offers to visitors a unique opportunity for a lazy afternoon cruise with unrivalled panoramic views. Emerald Star invites you to experience the realm of old world charm. It is the 62ft magnificent heritage-listed ferry. Emerald Star has been entertaining people for the past sixty seven years.
2. Luna Park Sydney
There are many attractions inside like fabulous six-star function venues and plenty of fun, famous rides and games. Entry is free, so you can even sit back and enjoy the delicious food, fantastic atmosphere and sensational views. The Luna Park Merchandise Shop sells a range of fantastic souvenirs.
4. Taronga Zoo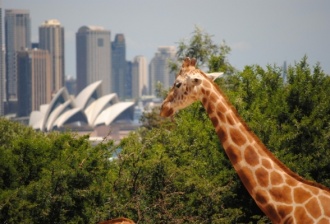 Taronga Park Zoo is located right on the north shores of Australia's most spectacular harbor. This zoo is home to over two thousand animals hidden among lush forest.
This area contains the suburbs located on the north shore of Sydney Harbor between Middle Harbor and the Lane Cove River. This area has many attractions for visitors.
Related content: Map of Sydney