1. San Francisco Magic Show
This is one of a kind show that will delight both children and grown-ups. Tim Noonan is very friendly, he talks with his audience and gets to know them, and also very entertaining and funny. A skillful magician will make things appear and disappear before your eyes, and he will make you laugh while doing that. Take your family to see the show you will not regret it!
3. Toronado
Being an all-American drink, beer is probably one of your favorite drinks too. Toronado is a bar which has one of the best beer selections that you will ever see. Isn't it a dream place of every man (and some women)?
5. Golden Horizon Tours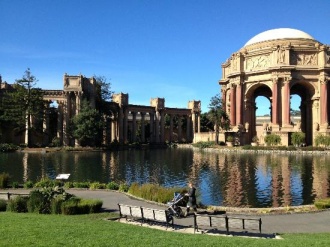 If you want to discover San Francisco's best, you should book yourself a tour. Golden Horizon Tours offer various customized tours. You might be looking for the SUV tours to some famous out-of-town areas, hot air balloon flight, or a downtown San Francisco tour; Golden Horizon has it all. People are very friendly and will go out of their way to make sure that you have the best memory of Frisco.
2. Golden Gate Bridge
This might sound a bit corny, but this famous bridge is really Frisco's greatest asset and you would miss a lot by not visiting it. There is something new about this bridge that you should know; as of this year, you are not allowed to pay the toll in cash anymore, it is now done electronically.
4. City Lights Booksellers
This bookstore is the best one in San Francisco. You will find a lot of literature gems here. This is the place which simply invites you to buy books and read, maybe due to the fact that its owner is a poet - Lawrence Ferlinghetti.
There are many more things to do in San Francisco. You have to visit this beautiful city to fully understand all the great things it has to offer.
Related content: Map of San Francisco