1. Batoche National Historic Site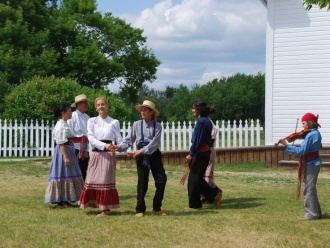 Batoche displays the remains of the village of Batoche on the banks of the South Saskatchewan River. It was the last battlefield in the Northwest Rebellion that happened at the end of the nineteenth century. In those days, Louis Riel selected Batoche as the headquarters of his "Provisional Government of Saskatchewan". Today, several buildings have been restored on this location. The site revives the lifestyles between 1860 and 1900. You can see the trails they walked, their homes and church. Also, you will find out everything about the Battle of Batoche.
3. Seager Wheeler Maple Grove Farm
This building has been designated by the Government of Canada as a place of national historic significance. Seager Wheeler Maple Grove Farm is part of the Family of National Historic Sites, one of more than eight hundred such places across Canada. These places are showing the important aspects of Canada's diverse but common heritage and identity.
5. The Station Arts Centre
This renovated station has been converted into an art gallery, tea room and performing arts theatre. The Station Arts Tea Room in Rosthern is the most popular of all these parts. It is especially popular as a lunch time destination. Everything here is completely made in the Tea Room kitchen, and from locally grown fruit, vegetables, grains, and meats are used.
2. Our Lady of Lourdes St. Laurent Shrine
This Roadside Statue had to be dismantled to make room for the twinning of the highway. Today, the new construction has roadway access and a parking area. This will allow any visitors who wishes to stop to honour our Mother Mary with prayer to do so safely. A new 5 foot statue of Our Lady of Lourdes was installed in the three sided building. There are still a few things to finish but the project has come along very well. This is a very interesting place to visit if you are in this area.
4. Valley Aquatic Centre
This attraction is operational from May till September the first. The Valley Aquatic Centre can offer modern Junior Olympic-sized pool with recreation wing, spray bar, water umbrella and diving board. Additionally, the whole facility is wheelchair acccessible. Also, they offers a full array of swimming lesson opportunities.
There are many history, culture and the fine arts attractions in this area. While visiting Rosthern visitors should not miss the award-winning Station Arts Centre Cooperative.
Related content: Map of Rosthern