1. Tübingen Gate
Tübingen Gate was built in 1235 as part of the city wall and expanded in 1330 with a tower. It is one of the past seven gates; only garden gate is obtained in addition to the Tübingen gate. In the middle ages, it was gate of the watchman, who also served as a fire watch out. Today, it includes a special reception area of the city administration.
3. The Spreuerhofstraße
The Spreuerhofstraße is an alley in the old town of Reutlingen. It is only 50 meters long and limited at its northern end to three adjacent houses built where western arm is the "narrowest street in the world" according to the Guinness Book of Records. The width of the street is an average of 40 centimeters at its narrowest point is 31 inches wide. The gap, or the closest area adjacent to the building at number 9, has a length of 3.80 meters. Since it is located on municipal land, it can be assigned to the public road area.
2. The Nature Theater Reutlingen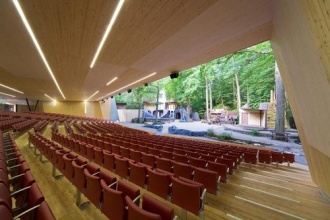 The Nature Theater Reutlingen is powered by a theater club and open-air stage in Reutlingen. Moevenpick Forest Festival Reutlingen take place on an annual basis. The outdoor stage is recorded since 1928. The forming of the Reutlinger open air theater dates back to 1863. Inspired by the examples of the Workers' Education Associations Augsburg and Munich became the foundation of the "Dramatic club". With a membership of over forty people theater began to work. It is known for participation of many volunteers at Moevenpick forest with the realization of the project "Reutlinger Nature Theater".
4. The Württembergische Philharmonie Reutlingen
The Württembergische Philharmonie Reutlingen is an orchestra based in Reutlingen. With currently over sixty members, it is an orchestra of group B. The WPR recorded in Reutlingen three major concert series: The symphony concerts, the factory concerts and matinees in the studio. There are also various special concerts and children's and family concerts. Much of the concerts take place outside of Reutlingen.
Reutlingen is found around twenty miles south of the State capital of Baden-Württemberg. It lies in the Southwest corner of Germany, right alongside the Swabian Jura, and that is the reason it is frequently called The entryway to the Swabian Jura.
Related content: Map of Reutlingen