1. Fly Us Hot Air Balloon Rides
Flying in a hot air balloon is certainly an unforgettable experience for everyone. If you are planning a romantic trip to Phoenix, this is a must-do! First-class service and the beautiful landscape seen from the air make this adventure worth every dime.
3. Castles N Coasters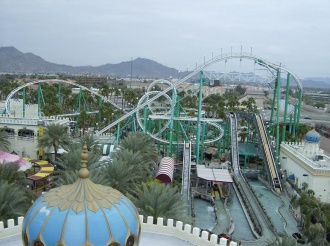 Castles N Coasters is an amusement park which will provide loads of fun for the whole family. Go carts are contagious! And, if you like adrenaline rash, rollercoaster is ideal for you. Staff is really friendly and prices are moderate.
5. Musical Instruments Museum
You do not have to be a musician to appreciate this museum. There you will find anything from well-known guitars to instruments you have never heard of. This museum will be fun for the whole family.
2. Chase Field
No baseball fan should miss visiting this great arena, the home to the Arizona Diamondbacks. Even if there are no scheduled games, you can always book a tour of the stadium. Sport enthusiasts are astonished by this place, become one of them.
4. Alice Cooper's Town
Most of visitors who once come to this great restaurant, come back again. Alice Cooper's Town offers great food for good value. The restaurant has a parking space. Staff is really nice and friendly.
6. Historic Heritage square
Situated in the modern center of Phoenix, this square is a real surprise. If you like walking, you will love this hidden gem with old architecture and carriages. Everyone who would like to take a look into Phoenix's history should take a stroll down Historic Heritage Square.
Things to do in Phoenix are countless. Pick what might be your cup of tea and start exploring.
Related content: Map of Phoenix