1. Pforzheim Chamber Orchestra
Pforzheim Chamber Orchestra is an universally known German symphony situated in Pforzheim. The ensemble was established in 1950 by Friedrich Tilegant. The symphony was controlled by Paul Angerer, Vladislav Czarnecki and by Sebastian Tewinkel since 2002. The ensemble recorded a few work of Johann Sebastian Bach with the Heinrich Schütz Chor Heilbronn and conductor Fritz Werner, as long as cello concertos of Luigi Boccherini.
3. The City Gallery
The City Gallery documents the work of artists from the region and West Germany. There are paintings on display again after some time, and many periods of the twentieth century are represented through examples of regional art. The collection also includes works by internationally renowned artists such as Hans Meid, Emil Bizer others.
5. The Culture House Osterfeld
The Culture House Osterfeld is a cultural center in the city of Pforzheim, located in the former largest elementary school in Baden. The Culture House Osterfeld's has place for events for various organizations, clubs and associations from different areas of interest. It is publicly funded. Donors are the city of Pforzheim and the state of Baden-Württemberg.
2. The Stadttheater Pforzheim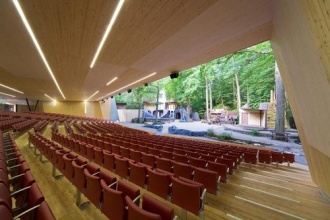 The Stadttheater Pforzheim is the theater, built by the architect Bodo Fleischer. There are two venues available - large house with over five hundred seats and the stage and gallery space for up to two hundred spectators. The Stadttheater Pforzheim is a three-line house with theater performances and operas, operettas, concerts, ballets, and plays. Badische Philharmonie Pforzheim is housed under the roof of the theater.
4. The Reuchlinhaus
The Reuchlinhaus is a cultural center in the city of Pforzheim. Architect Manfred Lehmbruck rebuilt it with central foyer with free floating staircase. These building house the Jewellery Museum Pforzheim and the Arts and Crafts Club. The house was named after the humanist Johannes Reuchlin. The building was converted to 2006 by the Stuttgart architects.
The City of Pforzheim does not offer anything spectacular, but it has something most of the cities doesn't have - good spirit and friendly people.
Related content: Map of Pforzheim