1. Putt Putt Fun Centre
This is great place for family entertainment. Here you can meet and enjoy laughing clowns, dodge cars, pool table, air hockey and over 40 arcade games. There are plenty attractions in this amusement park and you will pay for the activity you want to try.
3. Rio Vista historic house
This is historic house that overlooks the Murray River and it is built in the 19th century style. In Spanish language 'Rio Vista' means 'river view' and the house was named that way because of its position. It also offers the fountain in the garden and a separated gardener's cottage as well as orange trees and birds' aviary.
5. Mungo National Park
Here you can see remarkable archeological finds and the most important is Mungo Man, it is the oldest human cremation in the world. Besides, you can also see Mungo Woman and human footprints from the last ice age and discover the stories of the Aboriginal people who inhabited this land 40,000 years back. You can also take a guided tour to so called Walls of China. This is the place where erosion has made imposing formations out of sand and clay. Here you can also take cycling tour and enjoy the stunning landscape.
2. Historic Paddle boats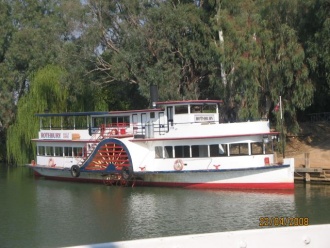 Mildura is settled on Murray River and there you can enjoy man paddle boats that can take you to river cruises or as transport to different attractions along the river Murray and also the Darling River. You can also experience on board dinner. Once the river Murray was very important trading route and on these paddle boats you can feel how it was through the history, while they were carrying supplies, most of all wool.
4. Self guided walking tours
Mildura self guided walking tour is 6 kilometer long tour that will lead you to historic churches, galleries, restaurants and many other interesting things along the Murray River. You can choose the tour and also the place you want to visit. Discover and enjoy historic landmarks and stories of city of Mildura.
This city enjoys mostly comfortable warm climate. Things to do in Mildura are historic and will make you feel like you are a century back, but will enjoy it for sure.
Related content: Map of Mildura