1. Castle of the Sztáray
This manor house is a still preserved former seat of the noble family of Sztárays. It was built in sixteenth century and it is among the most precious historical architectural objects in the territory of Michalovce. It houses the Zemplín region museum from 1957. The buildings of the manor house complex are located in the area of original medieval castle. The Sztárays owned the Michalovce manor house continuously from the mid eighteenth century until 1944. Various legends are connected with the manor house – e. g. about the mysterious underground corridor.
3. St. Mary's Cathedral
St. Mary's Cathedral is originally a gothic roman-catholic parochial cathedral from the fourteenth century. The noblemen family of Michalovce has the new church consecrated to Virgin Mary. The church was built by the end of the thirteenth century. The church was located in the centre of town. It was damaged and burnt by the end of the seventeenth century. The church was renovated in the 18th century. The originally gothic church thus gained a baroque appearance. The gothic bell is still preserved in the belfry and in the interior of temple visitors can see some gothic elements.The church has a baroque altar from 1721.
5. Church of St. Spirit
The construction of this imposing religious building started September 1930. The works were completed in 1931. In 1990, the Orthodox Church became a cathedral dedicated to St. Spirit.
2. The foundations of a rotunda
The rotunda and the stone plate with not yet deciphered inscription (it was discovered during investigations in rotunda´s interior) belong to the current great mysteries of Slovak archaeology. Experts still have different opinions on the dating of this sacral building. According to the discoverer Jaroslav Vizdal the rotunda was a part of the settlement from ninth century. The rotunda served most probably as a common parochial church for the residents of ancient nearby villages. Around the church was a graveyard. The rotunda was most probably consecrated to Archangel Michael There are several connected stories and various rumors with the rotunda.
4. Town hall
Town hall dates from 1928. It is the seat of The Municipal Authority Michalovce. The original "varošska chiža" (city house) was situated near to the Roman Catholic parochial church. The roof and the ceiling of the building were damaged by a huge fire in the 80`s of 20th century. In front of the town hall is the only little park on the Main Street. It is formed of three fenced areas next to each other.
6. Chapel. Anthony of Padua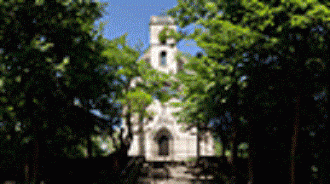 This chapel is considered as a true copy of the Gothic Chapel from Kosice. The construction work, which began on September 2, 1893, was commissioned by William Fröde - German architect, designer. The building was completed and consecrated in 1898.
This town has a great surrounding nature. It is very popular destination because of surrounding lakes and mountains.
Related content: Map of Michalovce