1. Parc Michel - Chartrand
This is the place that visitors can enjoy both in summer and winter months. For example, in winter you can do slides, snow shoeing, cross skiing and many other activities and in summer time you can use bike, roller skate, relax by the lake, practice yoga, experience walking tracks and many more. The true nature is the best what this place offers. There are also animation programs and activities for kids and adults whole year long.
3. Women's Museum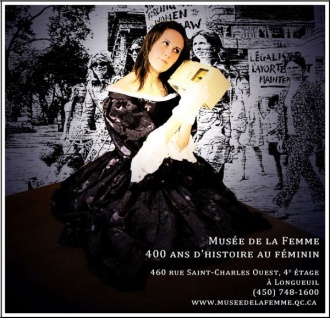 Or The Musee de la Femme in original language, invites visitors to a permanent exhibition and discover life of women in Quebec throughout the history. It is interesting to know that this is the first museum of women in the Canada and eighth in the whole world, so there are many artifacts about lives of women, like photographs, pictures and comments on various subjects.
5. The Longueuil International Percussion Festival
This festival takes places in the city in July, over six days and usually attracts about 200,000 visitors per a year. It usually features about 500 participants, both local and international and it has a different theme each year. If you are in love with the music, this is the right place to be.
2. Pi-o Centre d'Amusement
If you want some fun, especially for your kids, this is the right place to be. There are many interesting things for kids but also shops, restaurants and bars for adults. Here you can spend interesting 2 to 3 hours, especially when it is dark or rainy day since it is indoor place. Fun, fun and more fun and also a great place to celebrate your kid's birthday.
4. Carre Theater
Welcome to non profit theater that has a mission - to provide professional theater for young and adults of the region. It is actually a bridge between amateurs and professionals. It offers many workshops and also performers that can show what they have learned. This is definitely unusual place that you have to see if visiting Longueuil.
We also have to say that most buildings in the city are single family homes that were constructed in the post war era. Things to do in Longueuil are numerous, so come and experience the city yourself.
Related content: Map of Longlac