1. Fortified city
Fortified city is located to the west on the bank of the Rhine river. Near fortified city, Koblenz Hauptbahnhof is located. Koblenz-Stadtmitte station was opened in 2011. Pfaffendorf Bridge can also be seen in its area. City is divided with new and old city.
3. Liebfrauenkirche
Liebfrauenkirche is a church from thirteen century with towers and nice surroundings where you can walk. Churches are very coomon in this part of Germany, and they are devoted to the fighters from France and Prussia wars. Church of St. Florian can be seen here too.
5. William I monument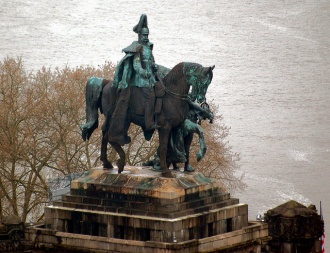 In 1897, a landmark to German Emperor William I was erected. It is fourteen meters od heights, designed by Bruno Schmitz. Monument is a must see if you come to Coblenz.
2. Basilica of St. Castor
Basilica of St. Castor or Kastorkirche is dedicated to Castor of Karden. It has four towers and it was erected by Louis the Pious. It has Romanesque building which was finished later. Wellspring is nice touch of this basilica.
4. Elector's palace
In the urban area lies the royal residence, built in 1781 by Clement Wenceslaus. He was the last elector. Castle was utilized as a place for sleep, and it was also used as optical wearhouse. Today, museum is located in it. It is a commemoration place to the artist Max von Schenkendorf.
6. The geyser Andernach
The geyser Andernach is the world's highest cold water geyser. It is over twenty feet high. It was built in 1903 for the first time. It is a tourist destination since 2006, one of the attractions near this area is volcano park and Geopark. There is a connection to the ship Namedyer available where the Geysirsprung can be observed.
Coblenz or Koblenz is amazing small town with several attractions that will leave you out of breath. Do not miss your chance to visit it.
Related content: Map of Koblenz