1. Athenree Hot Springs
Athenree Hot Springs is a campground with hot and bouncy hot spring which can relax your body and mind. It is near Tower Lodge hotel with two pools, one for the adults, one for the kids. The place has top notch service, clean environment, friendly hosts and good place to stay over. Hot springs are full of mineral water.
3. Haiku Pathway
Haiku Pathway is a stroll besides the river. It looks like a place from some fairytale.Haiku Pathway is very romantic and poetic, with nice poems on the pavement near a walkway. There is also area for picnic where you can enjoy with your family on a nice and warm day.
5. Murals of Katikati
Murals of Katikati is artrtistic expression of Katikati culture and its history. Through the years, murals become what Katikati really is – fun, enjoyable place with friendly people and great atmosphere. It is a chance to see how Katikati town developed in the past. This interesting and fabulous murals will definitely touch your heart and you will never forget this part of New Zealand.
2. Katikati Bird Gardens
Katikati Bird Gardens is amazing park with bird sanctuary located near Tauranga harbour. This bird garden has various range of many wonderful birds and plants. It has also many trees, wetlands and tracks through the garden. Beside beautiful scenery, it offers a place to grab a cup of coffee and lunch.
4. Historical Athenree Homestead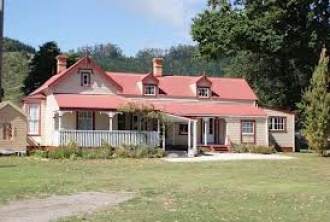 Historical Athenree Homestead is located on Athenree Road in Katikati. This is historical building restorated in 1995. Its value for citizens of Katikati is remarkable. Famous John Rapley began restoration in 1986, and his family continue to work on the house for the next ten years. Today, it is most valuable touristic destination.
Katikati is a place where you can get some rest, have some fun and get to know culture of New Zealand. Our recommendation is, if you decide to visit New Zealand, do not skip Katikati.
Related content: Map of Katikati