1. The cultural power plant energy
The cultural power plant energy is a cabaret venue in Goslar. The program is organized by "Goslar cabaret days". The building at the Hildesheimer street in Goslar was built more than one hundred years ago. Diesel engine served then as a power engine, which was actually designed for the first submarines. A second diesel engine was built in the late twenties of twentieth century.
3. The Monks Museum Goslar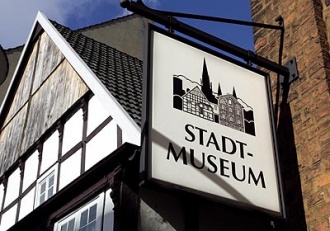 The monks Museum Goslar is a museum of modern and contemporary art and crafts. The museum was founded thirty six years ago. The aim was to provide additional worthy materials for tourists. It is one of the most beautiful farm houses in this area. House was renovated to prevent further decaying.
5. Guildhall Kaiser
The historic Guildhall Kaiser is a building located at marketplace. It is now used as a hotel. This former home of the Gewandschneiderwas built on the foundations of the first guild house. The impressive building is really worth seeing.
2. The Rammelsberg
The Rammelsberg is a hill on the northern edge of the town. There is a well known mine you can see from distance. After one thousand years of continuous mining, gold production was stopped. It is listed as UNESCO World Heritage Site.
4. Great Holy Cross
The building Great Holy Cross in Goslar dates back from thirteen century. Today, in this little room artists are located where they can work in silence. Many Romanesque elements can be seen and are still preserved. The special feature is that modern structure located at the back.
Goslar is historic town in Germany where you can explore some old and ancient buildings. Emperor Henry I founded the city in 10th century. You can look at silver deposits in this area. It is important area for Goslar, because of wealth of the silver mine, the town became a free city of the Holy Roman Empire. There are many castles from 11th century too. Many tourists come to Goslar to see this magnificent monuments and to enjoy powerful and artistic structures of ancient times.
Related content: Map of Goslar