1. The Sacred Heart Church
The Sacred Heart Church is the oldest post-Reformation Catholic church in Erlangen. It originated from a prayer house of 1790 in two phases. It is part of Erlanger parish center and it is home to exhibition of contemporary art. In the 16th century Principality of Bayreuth was conducting it, together with Lutheran.
3. The Solar Millennium AG
The Solar Millennium AG is founded in 1998 in Erlangen and it is company that specializes in the design and realization of solar thermal power plants. Solar Millennium is technology and services company. The main activities are site selection, project development, planning, conceptual design and construction of power plants. It was renamed in March 1999 in Solar Millennium GmbH.
5. Art Villa
The Palace of Art is the institution to the Städtische Galerie Erlangen. This is located since 1974 in the Palais Stutterheim, which was built from in eighteen century and is located in the center of the Huguenot city. Palace of Art was re-opened with a almost five hundred square meters of exhibition space on the ground floor and basement of the Palais Stutterheim. The exhibition program of the Palace of Art focuses on international art scene, and it provides the connection to the contemporary art.
2. Villa Glass
Villa Glass in Erlangen is building at the intersection of Werner-von-Siemens-Straße street. The building was designed by the architect Hans Maurer as an administrative building for the Siemens. After the Second World War, Erlangen was the second headquarters of Siemens-Schuckert. The 17-story glass palace is a reinforced with concrete structure and divided into a square grid with horizontal lines, which are alternately equipped with a window glass.
4. The theater Erlangen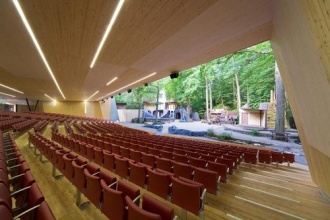 The theater Erlangen is a theater in Erlangen. Venues include the Marquis Theatre, the studio theater in the theater in the garage and the Erlanger theater traditional displays. Each season there are over two hundred performances, over ten premieres and numerous revivals. The program includes classics and contemporary pieces. There are numerous guest appearances and "In between" events such as readings, discussions foyer and others.
Erlangen is contemporary and art center in Germany. You can visit various shows and theaters here and enjoy in every day cultural events.
Related content: Map of Erlangen