1. The Forstbotanischer Garten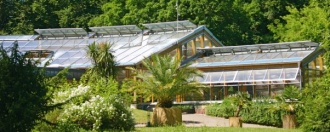 The Forstbotanischer Garten Eberswalde is located at eight hectares of land and it can be found at Am Zainhammer Street. Entrance is free, so you don't have to worry about that. It was made in 1830 as a feature of the Royal Prussian College. Its plant collection had over six hundred sorts of trees. Bernhard Danckelmann move the garden at present area. It was seriously harmed in the forties. Today the enclosure contains over thousand colorful trees and bushes.
3. The Old Jewish Cemetery Eberswalde
The Old Jewish Cemetery Eberswalde was created in 1751. The oldest grave stone is from the end of eighteen century. Later, cemetary was expanded with brick wall. Almost thousand square meters of area wide. In the Nazi era, the cemetery was not destroyed. The cemetery is also located near relatively hidden mental asylum.
5. The Mary Magdalene Church
The Mary Magdalene Church is an Evangelical Lutheran church in Eberswalde. It was built in the 14th century and is named after Mary Magdalene. It was inhabited by first people from Evers mountain because of the proximity to the margrave's castle. Its interiour is astonishing and nobody will remain indifferent.
2. Forest Foundation
In 2010, city formed Forest Foundation worlds to life. Purpose of the forest worlds Foundation is to promote forest-related science and climate impact research, public environmental education, the promotion of nature conservation. It serves as a popular recreation area for hiking and walking.
4. Fachhochschule Eberswalde
Main building of the University of Applied Sciences Eberswalde can be visited by every tourist. It has long tradition and was founded in 1830. Students can choose betwwen four subject areas. Building is true representation of solid Germany structure.
Eberswalde is located in the state of Brandenburg in the district Barnim. The city is situated at over twenty meters altitude with over ninety square kilometers area.
Related content: Map of Eberswalde