1. The Leopold-Hoesch-Museum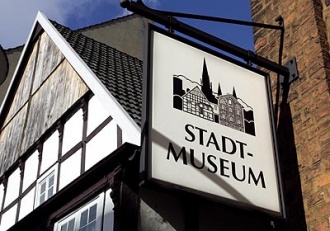 The Leopold-Hoesch-Museum is an art museum in Düren represented by William Hoesch, son of Leopold Hoesch. Building is decorated in Neo-Baroque style with rich sculptures and remarkable staircases created by the architect Georg Frentzen Aachen. The building was formed by Eberhard Hoesch. The entrance has two monumental bronze sculptures of a man and woman.
3. Ferris wheel
View from the Ferris wheel at the southern part of the Annakirmes, it takes place every year in late July to early August with almost one million visitors. During the nine-day spectacle along with numerous rides World Cup in spitting and the Miss Annakirmes are presented. The Annakirmes originated from a fairground from the past, and still is preserved as an attraction.
5. Burgau Castle
Burgau Castle is a moated castle located in Burgau forest on the edge of the district Düren Niederau. The ruler of Burgau erected castle on a hill. It has glorious structure and every tourist is amazed with its design and look.
2. The Düren Carnival Museum
The Düren Carnival Museum was located in the district of Düren Lendersdorf. Built in 1994, the cultural and historical Carnival Museum is the regional association of Düren in the German Carnival Association. Until 2006 the museum was housed in the old Rentei. Since the exhibition and storage areas were too small, the museum moved to the former nurses' home. The museum was run by volunteers and funded only through donations and membership dues of the Association.
4. Flame Angel
Duren was one of the most destroyed cities in Germany during the Second World War. It has various memorials to the period of National Socialism and the World Wars. Before the town hall serves, designed by Adolf Wamper "Flame Angel" in memory of the devastating air raids in 1944 and to all the dead of the two world wars. City government collected the names of all the victims and published it on bronze plaque. The picture shows how the Archangel Michael fighting over the burning city against a dragon.
Düren is nice town with friendly people and plenty of things to see and do. Take a rest here and you will be reborn.
Related content: Map of Düren