1. St. Nicholas
The upper church of St. Nicholas is a church in Cottbus in Brandenburg. The church stands at the Oberkirch place and the Sandower street near the Old Market Square. The church is a three-nave brick hall. The tower is located to the north. The Upper Church is the largest medieval church in Lower Lusatia. It was built on a site from the 13th century. The present church was begun in the second half of the 15th century. Probably the church was built in three sections. In the third section, the chapels were added on the north and south side.
3. Wendish Museum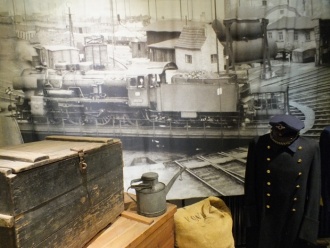 Wendish Museum is a folklore museum and is located in the city of Cottbus. In its present form, there is a municipal cultural historical collection since 1994, but goes back to a 1908 home furnished in Cottbus Wendish Museum parlor, which existed until the Nazi era. The exhibits present there was lost after the Second World War.
5. The Old Market Square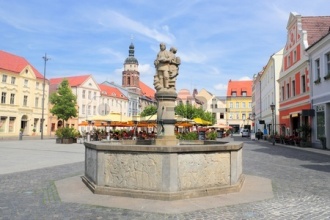 The Old Market Square in the center of the city of Cottbus arose in connection with the development in the 13th century as a crossroads of three ancient trade routes. The great city fire destroyed all documents which might have documented the appearance and texture of the Old Market Square in the Middle Ages. Marketplace has become a central transport and trade hub. It was only one after the construction of the New Town Hall on Neumarkt it was renamed in Old Market Square. It consisted of a very small eastern part, which was limited by the town hall in the west.
2. The Staatstheater Cottbus
The Staatstheater Cottbus is the only state theater in Brandenburg. The four-division theater in Cottbus offers ideas of his own ensembles for acting, musical theater, orchestra and ballet. In 2011, it recorded a total of over 98,000 visitors. Its construction owes the Cottbus theater to the wishes of its citizens. A textile industry had strengthened the economic and political position of the Cottbus in middle of the century.
4. Planetarium Yuri Gagarin
Planetarium Yuri Gagarin was opened on 26 April 1974 after nearly two years of construction today. Its dome has a diameter of 12.5 meters. The planetarium technology allows the presentation of a realistic night sky regardless of the day or year, the geographic location or the weather. There are regular planetarium shows, as well as lectures, concerts or theater performances. The planetarium is also the center of a planetary park.
Cottbus is the cultural center of Serbian minority. Many labels are bilingual, but Serbian is rarely speaked in the streets. The city is situated at an altitude of 70 meters. The municipality is 164 square kilometers. In the city itself, according to estimates from 2010, lived 101 700 inhabitants.
Related content: Map of Cottbus