1. Dolphin Marine Magic
It sits approximately midway between the Brisbane and Sydney. It exists for more than four decades. It was open in 1970 as a rehabilitation and rescue centre for marine animals. There are plenty of activities for younger and older kids. Adults tickets are 30,60 dollars and kids under 15 years old pay 16,20 dollars. With your pass you will get free seal and dolphin kisses, that is a special attraction! You will also see Marine Magic Presentation and opportunity to feed blue penguins, seal and the fish in the aquarium. You can also pet dolphins and it is important to say that few people will be randomly chosen during the magic show for special features of the show.
3. The Clog Barn
This is miniature village in Dutch style with working garden railway and working windmills. All you see there are replicas of buildings in Holland. This is the paradise for photographers and all people who like taking photos and the best part is - the entry is free! You can enjoy tasty food in local Big Oma's restaurant.
5. South Solitary Island
It is located about 18 km offshore from the city of Coffs Harbour, it offers a lighthouse and keeper's quarter's which were built in 1880 and is oldest in the area. In 1975 the island was abandoned and today is only accessible by the helicopter for tourists.
2. Sealy Lookout and Forest Sky Pier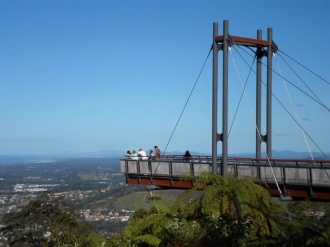 This place is 10 minutes drive from Coffs Harbour and the road goes through the banana plantations. It is open to vehicles and the entrance is free of charge. Both, but especially Forest Sky Pier offers great view to the whole area of Coffs Harbour and the coastline. There are also walking tracks through the rainforest and they range from one to three hours. In the site are also picnic tables and toilets provided.
4. Big Banana
This is probably the best known 'big thing' in Australia. It's enertaining park where you can see and enjoy The Banana Slip Water Park, which is the first 3 story water slide in Australia and also the biggest in the world! There are plenty of other entertainment things as well, as wild toboggan ride, ice skating rink, candy kitchen and so on.
This city has a warm and sunny climate and outstanding beaches. Things to do in Coffs Harbour are very attractive and informative, it is sure you will enjoy it all.
Related content: Map of Coffs Harbour