1. National Portrait Gallery
If you want to see people who shaped Australia through out the history, come to National Portrait Gallery. It displays more than 400 portraits and it also has rooms for other temporary exhibitions as well as public areas such as cafe, shop, basement car parking, theater and so on. This is light filled space with helpful staff.
3. Lake Burley Griffin
This is wonderful nature spot in the center of Canberra and you can enjoy it for free. There are lots of paths too enjoy fresh air and long walks with pleasant atmosphere and beautiful views. You can also cycle around the whole lake, that takes about 2 hours. Walk by this lake in the heart of Canberra is, for the most people, great way to start the day.
5. Weston Park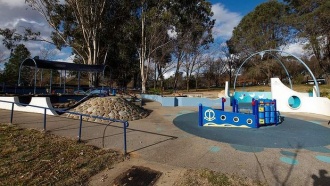 Many people call it 'Canberra Playground'. It has great range of playground equipment for children and even water play area. Loads of space for picnic, barbecue, mini train for kids, clean toilets. The parks like this is what make a city green to live in. And the best part - you can enjoy it for free.
2. Museum of Australian Democracy
This is one of the most loved Australian's buildings and it is settled in Old Parliament House. In this museum you can take a journey to Australian democracy, it presents the past and the present as well as possible future. Enjoy innovative exhibitions and tours that will inspire and challenge you. your kids can explore special departments with fun activities. It is open daily from 9 am until 7 pm, entrance ticket for adults is 2 dollars and for kids 1 dollar.
4. Booroomba Rocks Walk
It is amazing fact that this walking trek is only 30 minutes from the center of Canberra. The peak is easy accessible and it is a good way to enjoy nature for the whole family, kid included. It takes about an hour to come to the top and get spectacular view, and before coming there you can enjoy nice birds songs and many other wildlife.
Things to do in Canberra, capital of Australia, are fun and attractive. There are so many museums, galleries, nice restaurants and parks and it is only up to you to decide what to see first.
Related content: Map of Canberra Capital Hill