1. Museum of Fine Arts
This museum holds exquisite collections of most renowned artists from all over the world. This beautiful setting is just ideal for browsing art. Entrance is free on Wednesdays (5PM-9PM), and normally it costs 25$. There is also a great antiques collection which will be interesting to every art and history lover.
3. Skywalk Observatory
This observatory is a must do for every first-time Boston visitor. This part of the Prudential Tower will provide you with the most spectacular view of Boston you could ever imagine. It would be ideal if you could visit the observatory on a sunny day because the view is much better then.
5. Frost Ice Bar
If you are up for a completely different kind of fun, this is the place to go! Everything in this bar is made of ice. It is a bit cold, but you get ponchos to keep you warm. The entrance costs 20$ and drinks are 11$ each; but this will wake up that inner little kid in you, we promise.
2. Little Brewster Island/Lighthouse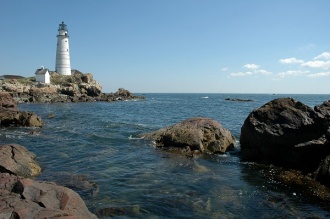 When you wish to get out of the city and go somewhere peaceful and beautiful but still not far away, Little Brewster Island is where you can go. The interesting thing is that lighthouse guard there is actually a woman.
4. New England Aquarium
There is an entrance fee of almost 25$, but you will enjoy this aquarium. Children love this place very much, specially since they are allowed to touch some of the animals in the pool. Bring your family and spend the day in this beautiful environment.
6. As Good As It Gets
As Good As It Gets is a cafe in Lowell Street in Wilmington. Portions are huge and you might want considering ordering one portion for two people. Everything there tastes just like home. You will get good value for your money if you eat at As Good As It gets.
These were some of the things to do in Boston. Everyone will find something they like in this beautiful city.
Related content: Map of Boston