1. Water Taxi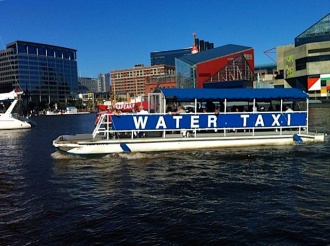 For the price of only 12$ you can ride Baltimore water taxi whole day long. These boats have been Baltimore's tradition for many years and Baltimore would not be the same without them. Take a ride and enjoy the beautiful view of Baltimore.
3. Charleston restaurant
Be warned, Charleston Restaurant is a bit pricey, so it is not a place for those who expect to eat cheap. The chef is just treendous! Meals look and taste as art. If you want to afford a special meal in Baltimore, Maryland; Visit Charleston Restaurant and you will not be sorry.
5. Power Plant
If you are looking for entertainment in Baltimore, Power Plant is where you should go. That is an area with lots of pubs and clubs. You will hear country music everywhere. People are very friendly and you will make some new friends for sure. Good time is guaranteed in Power Plant.
2. Baltimore National Aquarium
This is one of the most amazing aquariums you will ever see i your life. If you are keen on depths and the extraordinary life that they hide, National Aquarium in Baltimore is the place to visit. We guarantee you that you will spend hours looking at spectacular, fascinating exhibits.
4. Bromo Seltzer Tower
This tower is opened for tours on Saturdays. It is one of the most popular Baltimore landmarks. It is a clock tower which reminds a bit of Big Ben in London and it is certainly an attraction worth seeing.
6. McFadden Art Glass
Bowls, vases and plates can be real art pieces. You will start believing that as soon as you enter this shop. Everyone who wants to try can make their own glass piece. This place is just so cool for the whole family.
Baltimore is one of those cities that has charm and soul. Things to do in Baltimore are fun, entertaining and different. If you ever go to Baltimore, this city will occupy you and capture your heart.
Related content: Map of Baltimore